These are the 2018 spectator arrangements. In due course, the 2019 recommendations will be available.
Friday Afternoon:
Cars will begin to arrive at the Bath Spa Hotel from around 4.00p.m. on Friday 19th October, to be unloaded and parked. We will be pleased to see you in the grounds of the Hotel to watch, talk to drivers and take photographs. Event programmes will be on sale.
Please bear in mind that there will only be limited space, so you will have to be very careful! Please give the drivers and mechanics lots of room. The Bath Spa Hotel will be serving tea and coffee - even Afternoon Tea if you prefer - all afternoon.
Saturday Morning:
The First Cars will leave from the Car Park of the Bath Spa Hotel at 7.50a.m. to go to the start in Great Pulteney Street at 8.00a.m. The Cars will then leave from Great Pulteney Street every 30seconds for the following hour. This procedure will follow that used in 1976, 1980, 1983 and 1986. The cars will then leave Bath on the A36. The co-driver in this picture in 1976 will be amongst those leaving - Mini mounted in 2018!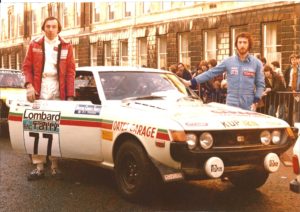 If you want to see the cars in action during the day, our suggestion would be to head to Wiscombe Park, near Honiton in Devon. Directions can be found on Wiscombe's own website, our coming from the North, we suggest the M5 to Honiton, from the South the M5 to Exeter and the A303 to Honiton. Coming West, again the A303 is favourite. The first car will be due at Wiscombe at around 11.00a.m. but we suggest that you leave plenty of time to get there, as the lanes around the Hillclimb course are very narrow. Entry will be £5.00. There will be a full commentary and other, normal, facilities.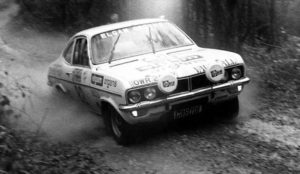 Lunch will be at the Beach Hotel in Minehead, where you will be able to see the cars at rest. During the afternoon, returning to Bath, there will be a Passage Control at Tarnock Ford, on the A38 near Axbridge - another great place to see the cars.
The cars will then be back in Bath from around 5.15 p.m. so you can see them returning to the Bath Spa Hotel.