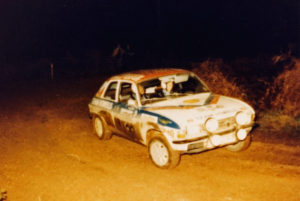 We are very pleased to see that entries are really starting to come in now. 
We have seen an entry from Tim Green's beautiful works replica TR7V8 this week, to add to Russ Cooper's TR7 entry. A driver who rallied an ex-works TR7V8 back in the 1970s was Doug Dawe along with co-driver Nigel Riddle who was also an Abingdon mechanic. Doug competed on the 1976 Lombard RAC Rally in the Austin Allegro featured and will be back in Bath in October 2018 in another Allegro.
Another driver who took part in the 1976 Lombard RAC Rally was Glen Mitton in a Woolworths sponsored Escort Mark 1 – Glen will also be back in October 2018 in an Escort Mk2 this time. Glen and his wife will be crewing one of our hire cars.
Another crew on the 1976 event were Geoff and Alan Simpson in the Tyreservices Escort. They had been crowned the BTRDA national champions that year. They are currently entered in a Ferrari V12 but rumour has it that they might be out in another Escort – watch this space!